TPS Reports with Prof. Beisteiner on ServusTV
on 12/29/2022 at 9:10 p.m
Transcranial Pulse Stimulation with Ultrasound
New promising add-on approach for improvement of brain functions (for Dementia, Parkinson's, Stroke, Depression) from the Medical University of Vienna. It is vital to be applied from brain experts experienced in functional network diagnoses (fMRI)

.

Current dates:

– TPS Lecture with Prof. Beisteiner, 12.05.23, Planetarium Wien
More Information
Revolutionary Therapy
Restoration of lost brain function using a non-invasive therapy, stimulating still functional neurons in a highly focal fashion.
Fundamental specialized knowledge
Correct and risk-free application of TPS requires profound neuroscientific expertise.
Add-on treatment
Regular therapy can continue normally. TPS therapy represents an additional treatment option.
Prof. Dr. Beisteiner and his team of experts from the Medical University of Vienna
Individualized therapeutic approach
For each patient, Prof. Dr. Beisteiner prepares an individual therapy concept informed by the newest results from his research group.
Safe Application
Drawing from the specialized knowledge and accumulated scientific experience, TPS is guaranteed to be applied in a safe and stress-free environment.
Thorough Care
Starting from the first appointment, through a screening visit, therapeutic sessions and a final assessment: Prof. Dr. Beisteiner personally oversees all phases of therapy with the appropriate care and empathy.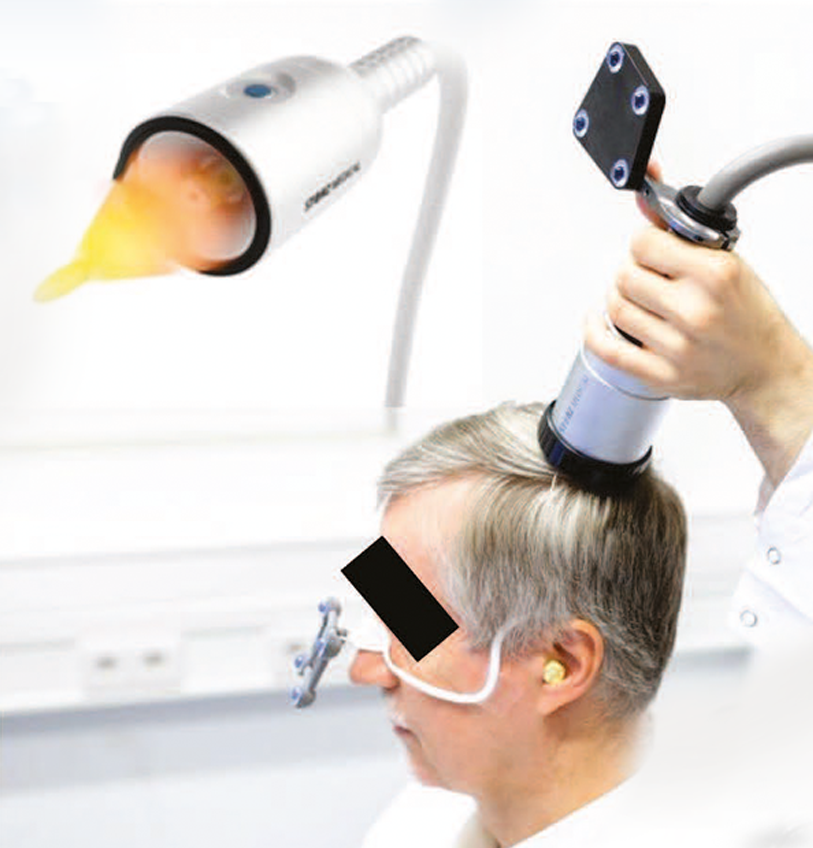 Our Team
Prof. Dr. Beisteiner and his team stand for state-of-the-art medical expertise. The focus is on individualized treatment.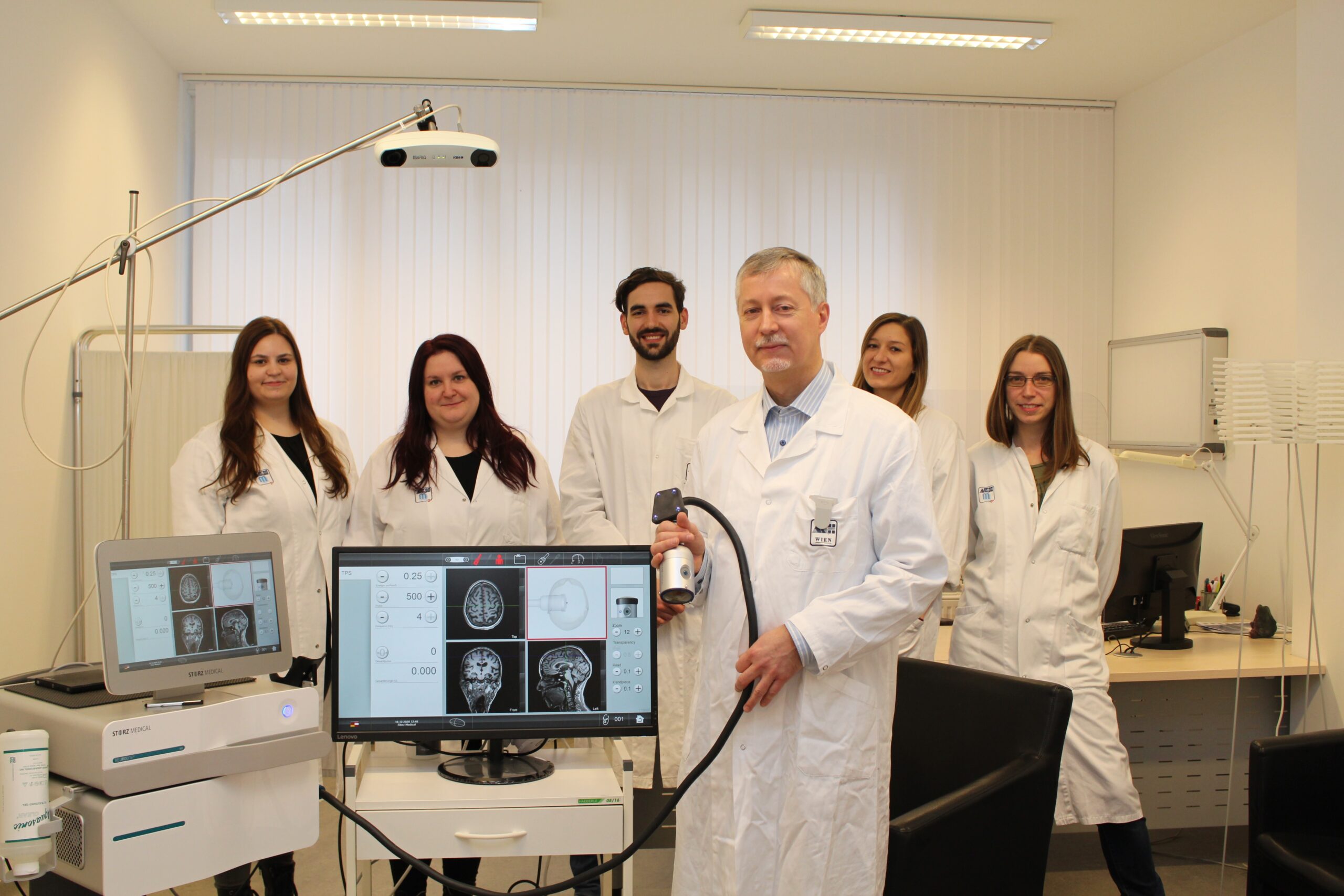 Recent Studies
Take a look at the current state of research by clicking on the studies.  
State Of Research
Since the first introduction in 2019, numerous research papers on possibilities of TPS therapy have been published by the Medical University of Vienna. Due to the appeal of the new therapy concept, Prof. Beisteiner is regularly invited by leading universities and scientific organizations to give lectures on TPS. More and more clinical and scientific institutions worldwide are trying to implement the promising Viennese therapy concepts. For serious application, however, specialized neuroscientific knowledge is essential. In the meantime, the Medical University of Vienna has been able to demonstrate successes in dementia, Parkinson's disease, stroke, depression as well as reduction of the processes of brain degradation by publishing articles in high-ranking scientific journals.
Frequently asked Questions
What is TPS?
Transcranial pulse stimulation (TPS) is the world's first ultrasound-based clinical brain activation therapy. The basic idea was developed by Prof. Beisteiner (Medical University of Vienna) in 2012. After extensive conceptual development and as leader of an international research consortium, a first therapy system for brain function specialists was developed. In 2017 Prof. Beisteiner introduced the name Transcranial Pulse Stimulation (TPS). It is a brain stimulation technique to improve brain function and can be used as a complement to existing brain therapies. The procedure is currently one of the most complex non-invasive brain therapies and requires high-level expertise in clinical brain function analysis (including functional MRI) for safe and efficient application. When used appropriately, functional improvements are possible in brain diseases that respond to neuroplastic reorganization. These include dementia, Parkinson's disease, movement disorders, stroke rehabilitation, and depression. Further diseases are under investigation.
What do potential TPS candidates need to be aware of?
TPS is a new and highly complex brain therapy and therefore requires special knowledge on brain function. The basic idea developed by Prof. Beisteiner starting in 2012 was a personalized precision therapy tailored to the individual patient. This requires the detection of the smallest pathological changes in the brain, which is typically only possible with special magnetic resonance (MR) examinations. On the other hand, the status of cerebral activity in the respective patient must also be precisely analyzed. Stimulation of pathologically overactive brain areas must be avoided at all costs. Pathological changes as well as pathological overactive brain areas are different in each patient.
Is TPS safe?
During the 10 years of TPS development, the research consortium led by Prof. Beisteiner has placed special emphasis on clinical safety. With professional application with exclusion of relevant pathological brain changes, as well as detection of pathologically overactive brain areas, the procedure is therefore safe and well tolerated.
For which diseases is TPS applicable?
Regulatory approval exists for Alzheimer's dementia (CE certificate).
Brain function improvements are also expected in other forms of dementia, Parkinson's disease, movement disorders, stroke rehabilitation and depression.
At the Medical University of Vienna, Prof. Beisteiner is currently conducting intensive research on the application in other diseases that respond to neuroplastic reorganization.
An application in non-approved diseases is only possible under special safety measures and based on our current TPS research.
Where does the therapy take place?
All treatments take place at Lazarettgasse 25, 1090 Vienna, in the Ordinationszentrum 1st floor, room 33.
The preparation of the special TPS magnetic resonance (MR), which is required for safety reasons, takes place in the same building, on the upper floor.
Which contraindications are there?
The assessment of potentially dangerous situations is done individually for each patient based on the most recent findings of research. Important criteria are:

Blood coagulation disorder (also due to taking strong blood thinners/anticoagulants).
Additional pathological brain changes (e.g. micropathologies with bleeding tendency, tumors, vascular diseases)
Recent head injury
Permanent cortisone medication
Which reports are required for the initial analysis by Prof. Beisteiner?
For safety reasons and to assess possible efficacy, a comprehensive medical analysis must be performed prior to therapy approval:
MRI findings
Report from your neurologist, including medical history and all diagnoses
Current list of medications
Recent doctor's letter from your general practitioner, including all other diagnoses and previous illnesses
Other findings that you consider relevant
What improvements can be expected?
To date, improvements in cognitive and motor deficits have been well documented. However, the effects are variable and individually not yet predictable. For a reliable documentation of the therapeutic response, clinically approved tests are performed for each patient. Based on these results, the vast majority of patients respond to TPS with individually optimized therapy access. In addition to improvements in cognition and motor skills, improvements in mood, attention, and activities of daily living have been documented by our TPS development center.
Why do clinical tests need to be done before and after therapy?
Special clinical tests are necessary so that Prof. Beisteiner can give you serious advice on the effects of TPS therapy and potential consequences. Also possible therapy repetitions must be planned individually according to the clinical condition and therapy response. In 10 years of development work, a high-quality battery of clinical tests has been established, which is compiled according to the individual requirements of the patient and can also be carried out externally from our clinic.
What is the general process of a stimulation session?
You will sit in a comfortable treatment chair and be fitted with special navigation glasses. It is necessary to be able to keep your head as still as possible and look straight ahead for about half an hour.
During the treatment itself, parts of the head are moistened with a harmless ultrasound gel that can be washed out without leaving any residue. This can be completely rinsed off in an adjacent bathroom immediately after the treatment. Towels, shampoo, comb or brush, and a hair dryer are provided.
Are there any side effects?
TPS therapy is very well tolerated. In general, minor local sensations of pressure or slight sensory perceptions are possible. Rarely, temporary mild headaches may occur.
Due to the TPS brain activation, some patients may experience increased fatigue for a short period of time, which corresponds to the effects of the therapy.
No medically relevant problem has been reported so far when used properly by brain function experts.
During the treatment cycle, sufficient daily fluid intake should be ensured.
Transcranial Pulse Stimulation and Prof. Dr. Beisteiner have been featured in a number of journalistic articles. Here you can find a selection of articles and videos.